FAQ's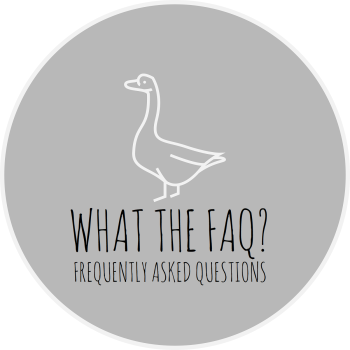 I DON'T HAVE A PAYPAL ACCOUNT, CAN I STILL PURCHASE FROM YOU?
Yes you can! You don't need a paypal account to purchase from us.You can pay via card or with your PayPal pennies.
Handmadebyswans uses PayPal as a gateway to take payments, this ensures a secure and easy transaction. You don't need a PayPal account, you can simply use your bank card to pay via PayPal. Yey! It's super easy and very secure!
This is a trusted and safe payment method.
DO YOU SHIP TO MY COUNTRY?
We are based in the UK but ship to many countries around the world.
HOW DO I KNOW IF YOU'VE RECEIVED MY ORDER?
Once your order has been pleaced you will receive an email detailing your order. If this does not appear please check those pesky junk and spam folders as sometimes they could be hiding in there!
WHAT IS A GROUP OF HEDGEHOGS CALLED?
A prickle! (Officially it is an Array but we much prefer prickle)
WHEN WILL YOU DESPATCH MY ORDER?
We aim to despatch all your orders as soon as possible. However for more delivery information click here.
HOW DO YOU PACKAGE MY ORDER?
All greeting cards are sent in a cardboard "do not bend" envelope to ensure your card reaches you in the best condition. All mugs are sent in smashproof boxes. We re-use as much packaging as possible and Handmadebyswans is always looking to become as eco friendly as possible, using recycled packaging where we can. We use bubblewrap and packaging peanuts with some of our more fragile items that we have saved from deliveries we have received.
WHAT IS YOU RETURNS POLICY?
Click here to view our full returns policy.
CAN YOU PERSONALISE ITEMS?
Yes!Absolutley. It's what we do! The majority of our items can be personalised...such as greeting cards, Mugs, Notebook, Egg cups, Wooden signs, Wooden items. If you have any questions for bespoke orders or personalising please drop me a message on our say hello page and i'll only be too happy to help.
WHAT ARE THE WORDS TO THE SPANICH NATIONAL ANTHEM?
There are no words!
I NEED A CARD FOR MY FRIENDS, MUMS DOG, CAN YOU MAKE ONE FOR ME?
Yes of course! If you would like a card making with your own wording please drop me a message on the say hello page and i'll be happy to help. I won't however copy another design so please don't send photographs requesting us to replicate.
DO YOU HAVE A SHOP I CAN VISIT?
Sadly at this time we don't have a bricks and mortar shop.
You can also visit one of our upcoming craft fairs if it's local to you! Click here to find out where we will be.
I HAVE SEEN AN ITEM ON YOUR SOCIAL MEDIA BUT CAN'T FIND IT ON THE WEBSITE?
Oh no! Well that's rubbish...The item may be out of stock or may need updating by us. Please drop me a message on the say hello page and i'll look into this for you.
I'VE FORGOTTEN MY LOG IN DETAILS, WHAT DO I DO?
Your log in is your email address that you used to register. There is also a link underneath the account log on to reset your password if you've forgotten the deets! If you're still having probelms logging in please drop me a message here.
HOW SAFE ARE MY PERSONAL DETAILS?
We take online security very seriously here at Swans HQ.
Please take a look at our Privacy Policy Here.
HOW DO I ADD A PROMOTIONAL CODE TO MY ORDER?
If you have a snazzy discount code, there is a box at the checkout section to enter the info. It will then automatically discount the order. If you have a code and it's not working please let me know on the the say hello page and i'll look into it for you.
CAN I CANCEL MY ORDER?
Yes you can (although this would make us sad)
We aim to make and despatch your items as soon as we can. If your order has already been despatched we are unable to cancel the order and the item would need to be returned to receive a refund. For more information on our Returns/Cancellation Please see our returns policy
If you have requested personalised or bespoke items we are unable to cancel the order or make any changes if we have already started to make or have despatched your order.
MY ITEM HAS ARRIVED DAMAGED, WHAT SHOULD I DO?
Curse! Only kidding...If your item has been damaged on it's journey you can get in touch with us here on the Say Hello Page and we'll be happy to set that right for you.
MY DELIVERY HASN'T ARRIVED IN THE TIMESCALE YOU ADVERTISED...
In the unlikely event that you don't receive your order we will certainly help locate your parcel, please send us a message here.
For our current despatch and delivery timescales please check here.
If you've ordered an item to big for your letter box please check that a card hasn't been left detailing that an attempted delivery has been made. Your item may be at the local Post Office or with a neighbour. We put our faith in to the lovely Royal mail postmen and women to deliver your items to you in the time they specify for the service we pay for. However at busy times there may be slight delays.
WHAT COLOUR IS HIPPO MILK?
Pink!
NOTE ABOUT PERSONALISED ORDERS..
We love doing your personalised orders. It makes us super happy. But please do remember to check, double check and check again the details you send us to make your personalised item. We will copy and paste the wording you supply, exactly, to create the design for you. We are unable to refund any bespoke order due to incorrect spellings at the time of ordering.
I HAVE A QUESTION YOU HAVEN'T ANSWERED HERE...
Oh Gosh... Please bob me a quick message here and i'll get back to you as soon as i can.